---
Membangunkan usahawan wanita
Bumiputera di dalam perniagaan
The Association of Bumiputera Women in Business and Profession, or better known as Peniagawati was set up on 24 March 1980 and is the oldest women entrepreneur association in Malaysia. Peniagawati has over 1000 members from various industries and professions ranging from micro, small, medium to large enterprises. Being the pioneer in women entrepreneurship in Malaysia, Peniagawati works very closely with government ministries and agencies in Malaysia as well as with the private sector, other NGOs, international partners and the media.
Years empowerment women entrepreneurs
Programmes held and participated
Registered members since 1980
Participate Trade Exhibitions
Leadership and management seminars
Dialogue with relevant authorities
Program : Exclusive Dialogue Towards 2020 Date : 21 October 2019 Venue : Kem Bina Daulah, Wisma MPM, Kuala Lumpur
Read More »
Program: Celik Cukai 2 bersama Puan Latiffah Wahid Date: 20 March 2019
Read More »
02 December
- 04 December
BELITUNG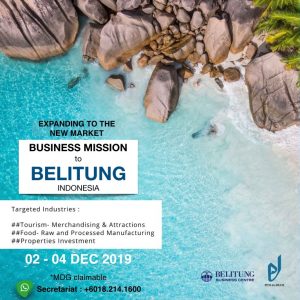 No event found!